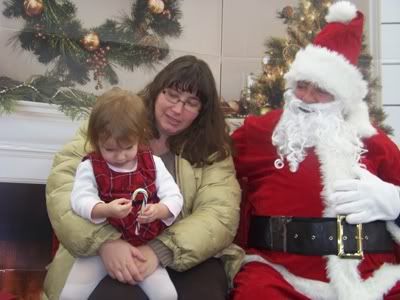 I know that a lot of parents struggle with 'The Santa Question'. For my husband and I, we decided very easily to make Santa real for our daughter.
We had both believed in Santa when we were small, and I don't think having lived 'The Lie' damaged us in the slightest. I know that I loved keeping 'The Lie' up after I gave up believing, because my little sister still believed. In fact, my sister asked our mom point blank if Santa was real, and mom said no. Well, she wasn't ready to give up believing so she just ignored that conversation with our mom for another year!
Emily's bedtime story last night was "The Night Before Christmas" and she was excited at all the pictures in the storybook of Santa. Though she wasn't quite sure what to do with the 'real' thing when we took her to see Santa at Walmart over the weekend.
I think Santa adds to the magic of the season, and Christmas is so much more magical with a child to share it with!