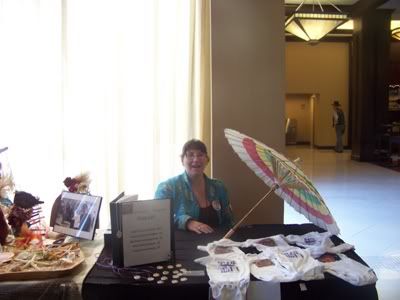 I left home pretty early to get to Charlotte on Friday. I got my stuff stowed in the hotel room, and waited for the staff meeting to start.
After the staff meeting was done, I got the Shiny Space Bazaar's table assignments figured out. I, then, got my table set up.
I spent the next 4 hours at the Bazaar - I had a good time chatting with the folks from
Washed Up Mermaid
. I bought a few things too!
I sold most of my parasols, and some of my other stuff. I made enough money to cover my expenses for the weekend, which was my goal.
After the Bazaar was over, I picked up my stuff, went up to put a long sleeve shirt under my clothes, and went down to help get things sorted out for the Luau.
It was cold outside, but the Luau was a lot of fun. The food was super yummy, especially the strawberries and chocolate! We got paired into crews and we played a 'getting to know you' game which was so funny.
The band was great, and the entertainment was as well. I did end up running up to the hotel room to get my coat because it was really cold.
After the Luau was over, I sang one song for the Karaoke - but it was too cold to stay. I went upstairs to get warm and change into my pj's before heading down to Susannah Ravenswing's concert. I love Susannah's Firefly inspired songs, and the concert was great. And the room was packed!
After the concert was over, I went straight to the hospitality suite for the PJ party. This room was also packed! I only made it through Jaynestown - which was super fun to watch with other people who have seen the episode as many times as I have, before I went upstairs to go pass out!